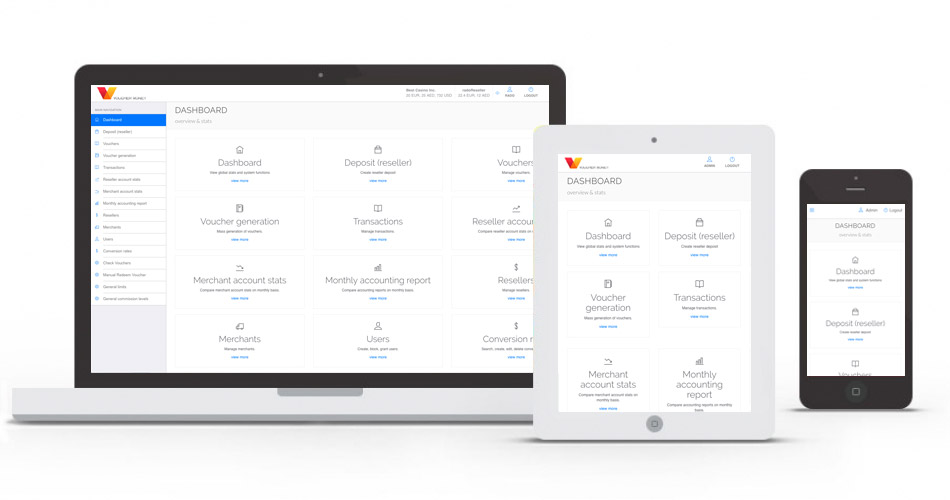 Voucher Money
Voucher Money is a safe and secure online payment which guarantees user's privacy and funds. This advance payment system was designed to be used worldwide with maximum availability and system robustness. Vouchers can be created, sold and consumed by 3rd parties and the system manage it all, allowing customers to buy vouchers from resellers, then use those vouchers in merchant websites.
Challenge:
Voucher Money came to Danubesoft as a dedicated project from one of our partners in Middle East. We were in charge of gathering requirements, create specifications, project roadmaps and plannings, product development, launch and maintenance. A new industry came to our portfolio, fintech, and we were excited to undertake a project with high availability and almost no tolerance for error.
Approach:
The core Team of Danubesoft has worked in several platforms which use payments 3rd parties. From our experience plus building a new specialised team with fintech skills we were confident to achieve the project goals. Constant collaboration wit our partner's teams must be key to the success of the project.
Solution:
Using a dedicated team and clear specs, Danubesoft used an Agile approach, splitting the project in 2 weeks sprints with demos at the end of each sprint, constant feedback and iteration to improve incrementally the project. We implement a fully customisable backoffice, which allowed us to configure all aspects of the system, from API auth keys, to create new merchants and resellers.