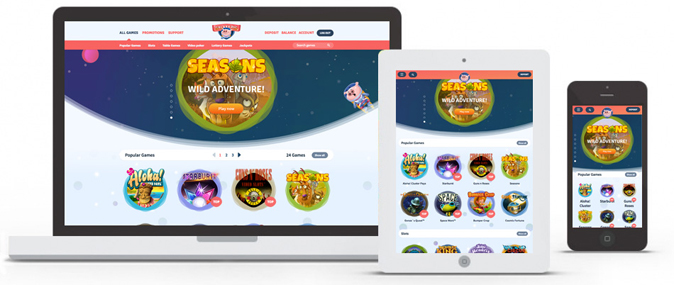 Online Gaming Platform
GalaxyPig Casino is a modern online casino with a unique spacefaring pig mascot. The casino is designed with a clean instant-play interface that supports both desktop and mobile devices.
Challenge:
GalaxyPig online casino is a project which was born in 2015 with the intentions of creating a new brand in the iGaming industry. A modern design had to be adopted in order to position the brand in the market, focusing on a "mobile-first" approach. GalaxyPig casino needed a complete gaming platform, including players wallet, payments and games integration, for mobile and web devices.
Approach:
The core Team of Danubesoft comes from an iGaming background with more than 20 years combined of experience in the industry. So we decided to use our experience and our brand new Gaming Platform for the implementation of the online casino, and to build a 2 dedicated Teams for GalaxyPig technical support and casino management.
Solution:
Using Danubesoft Gaming Platform as the technical base, our software Team integrated top games providers (Netent, Microgaming, Betsoft…), multiple payment methods through payment providers like APCOPay and Wirecard, and customised the gaming platform to meet all the requirements from GalaxyPig management and from the Gaming License Authorities in place. On top of that, our design Team create a new and original visual theme for the platform, which gave GalaxyPig the final "touch" to be unique in the iGaming market.